Assad walks among the "residents" of Bab Amr…
On the 27th March, Syria's embattled President, Bashar al-Assad made a visit to the former opposition stronghold of Bab Amr in Homs, Syria. This neighbourhood had been in the firm hands of the Free Syrian Army for nearly three quarters of a year, serving as their main base. It was finally taken by the Syrian army on the 1st March. The government ominously declared prior to the capture that the neighbourhood was being "cleaned".
The fall of Bab Amr was accompanied by the tragic, and sadly predictable tales of atrocites emerged after the fall. Among them, a shocking tale (all too believable, given the brutal nature of the Syrian government's response to demands for change, peaceful or otherwise) of 17 FSA soldiers being massacred with knives after being caught and attempting to flee the area, Avaaz alleged they may even have been civilians. There were also claims from defected soldiers that they had orders to shoot anyone on sight, claims that 36 people were rounded up and summarily executed, etc. In all, all manner of atrocities were reported.
In his visit Assad was surrounded by people showing their support (or at least appearing to; I'm betting that many were Mukhabarat or pro-Assad civilians driven into the area. Would the genuine residents (and I feel I can say that with a degree of certainty) cheer on the figurehead for the brutal family fiefdom which killed their children and reduced their homes and lives to rubble? If they are people of the area then it is all too likely they were paid or coerced (the latter much more likely) to attend.
In his words to the people of the area (but were they, really?) he claimed that life would return to the area and it would be "better than it was before." You can rearrange bricks, pour cement and restore utilities. But how do you tell the mother who has no child running home after school to greet her with an angelic smile that life will be "better". How do you restore the innocent, untormented minds of the young who have witnessed butchers massacring innocents? His words are hollow and utterly, utterly cynical. 
The real reason that he made this venture was to use it as a thinly-veiled victory parade. He left unspoken in words what he gave voice to in actions. As he smugly strode down the devastated streets with his typically unassuming gait, he was proclaiming: "Look what I can do to you if you raise your voice against me. I have won."  
That probably also explains why this wasn't streamed live. If many of these people had been normal people then they could have taken a desperate risk and started to heckle and boo their leader and humiliate him in the same way that Ceausescu's people humiliated him in front of Romania and the whole world in 1989.
As one activist by the name of said: "He thinks he won and scored a great victory" (speaking by telephone). "He wants to show the world he defeated and put down a revolution. But … it seems he can't even release the video until he has left Homs. That is not control." 
But he hasn't won by any means. There's suppressing physical territory and people with bullets and tanks and there's crushing an idea. Nobody can do the latter, not even the omnipotent and omniscient "Doctor" Bashar (who should have had his medial accreditations withdrawn several times over by now, considering how he's made doctors and others violate the Hippocratic Oath in hospitals and refuse to treat injured opponents).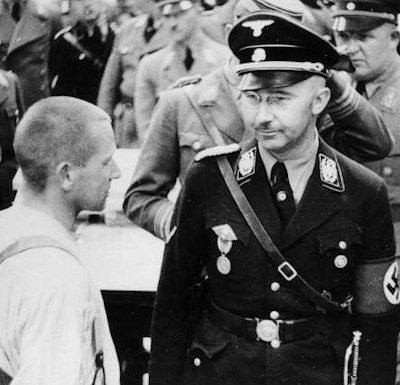 …Now look at this image of Himmler looking contemptuously 
at a Dachau prisoner. Similar, eh?
I noticed one particularly unsettling historical similarity. On January 20th 1941, Heinrich Himmler, escorted by his subordinates (notice how Assad is escorted around by sycophants in the video, an image which looks eerily similar) walked among the scenes of suffering and death at the height of Nazi power, viewing the death and destruction he himself had created with a similar aloof, barely-concealed air of satisfaction. His standing among the people he made to suffer is exactly the same kind of victorious gloating at the height of his power which Assad is enjoying in, militarily, could be said to be the height of his. History repeats itself. 
I could go further and compare his visit to Himmler's visit to Auchwitz, but that wouldn't be half as appropriate. The Nazis targeted specific people and there was one sole leader. Assad represents an extended family fiefdom and arbitrarily targets everyone and anyone against him.


But I could easily compare Assad and Himmler. Both seemingly unassuming and not at all dictatorial, both rather vain with something of an inferiority complex, and both mass-murderers. History always repeats itself in more ways than one. In these instances, most of these "ideologies" these murderers follow are mere rubber-stamps for murderous actions. Assad is more Nazi than Ba'athist. Nasser would turn in his grave in disgust.